Cars that come to us usually have an exciting story. Be it because of their rarity, eccentric owners or their place in automotive history. These stories with cars from us were created in cooperation with Classic Driver.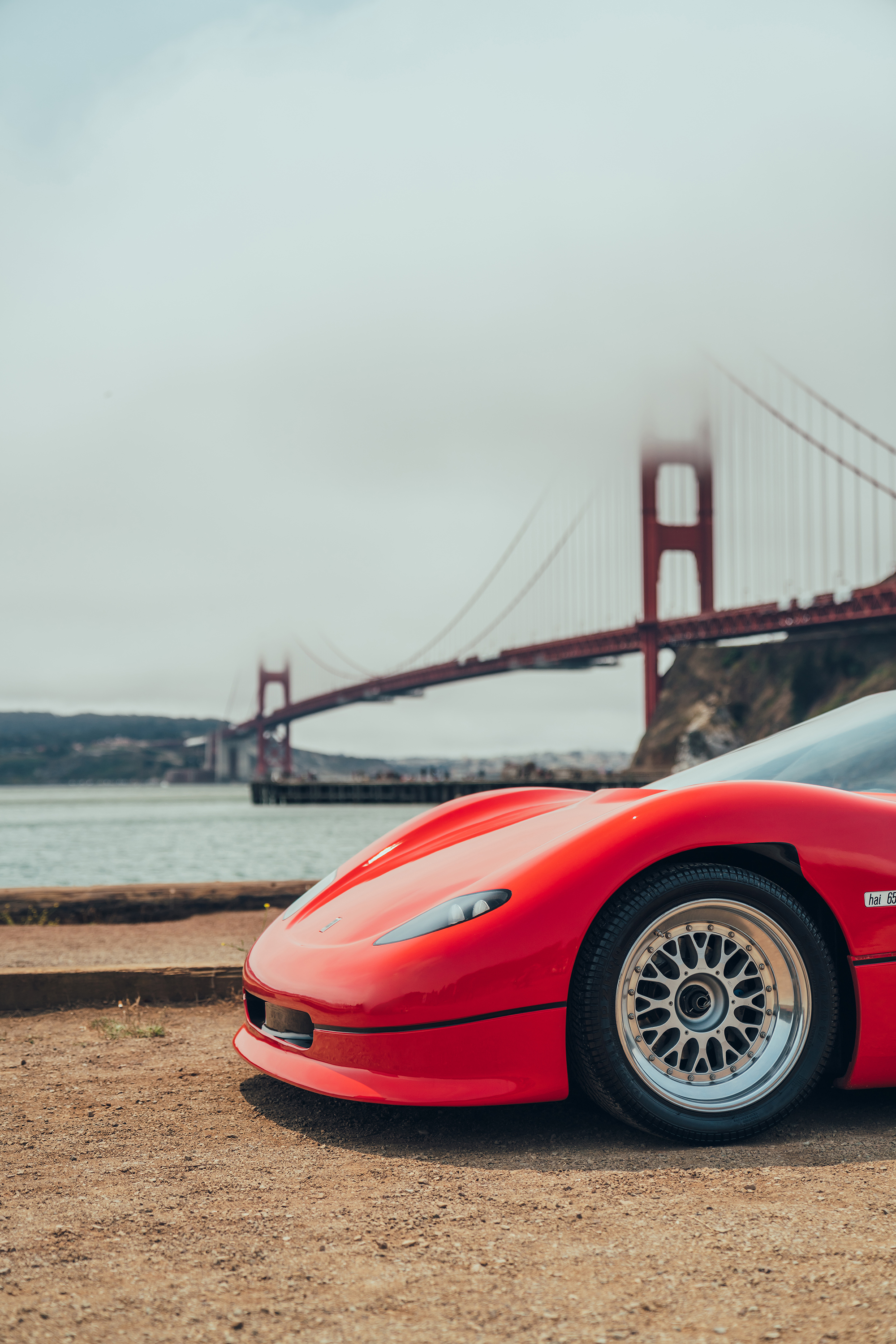 The Monteverdi hai 650 F1 is a Swiss shark bound for Monterey.
If you were planning to go car shopping at The Quail this weekend, you're gonna need a bigger boat (or car carrier) – because Swiss dealer Andreas Wüest is bringing the mythical Monteverdi hai 650 F1 as a surprise guest to California's most glamorous automotive garden party. 
Bad news if you're hoping to steal the show at the opening of The Quail by unveiling an A-list vehicle - because you're probably going to be trumped by a last-minute arrival in the form of one of the most exciting, rare and enigmatic supercars of the last decade of the 20th century: the remarkable Monteverdi hai 650 F1 that is being exhibited through a collaboration between Swiss specialist dealer Andreas Wüest and Morton Street Partners.
The outrageous and curvaceous hai proved to be the swansong of the late Swiss entrepreneur Peter Monteverdi's eponymous marque, being borne from its ever-ambitious founder's brief foray into F1 team ownership. Monteverdi bought Onyx Formula One from its previous, cash-strapped owner in 1989 but shut it down the following year after competing in just 10 of the 1990 season's 16 races. 
As brief as the experience was, it inspired an attempted return to car manufacture after an eight-year gap with something even more jaw-dropping than the mid-engined, Ferrari-challenging hai 450SS that had wowed the crowds at the 1970 Geneva Motor Show. Again Monteverdi called it 'hai' (for 'shark') but this time it would be an 'ultimate' track day car that brimmed with F1 thinking - and in 1992 the all-new 'shark' surfaced, complete with a chassis formed from a 'carbon fibre and aluminium honeycomb sandwich,'  a carbon and glass-fibre body, F1 suspension, carbon ceramic AP Racing brakes and (most importantly of all) a screaming Cosworth 3.5 litre V8 F1 engine that churned out 650 horsepower at a frenzied 11,000 rpm.
Weighing-in at just 850 kilos, the hai 650F1 was billed as being able to reach 200kph/120mph in just eight  seconds and carry on to a top speed of 335 kph/209mph - although the launch literature did offer the option of a less powerful engine 'for road use'. Monteverdi priced the car at a strong but not unreasonable Sfr 850,000 (double the cost of a contemporary Ferrari F40, and $45,000 more than a McLaren F1) and planned to limit production to 12. In the event a mere three cars were built: one other red one, plus a third, silver-painted  'dummy' -  both of which remain on display in Lucerne's Swiss National Transport Museum. They were to be the last Monteverdi models ever made.
Despite being the most well-used of the two operational cars, this hai 650 F1 has only run for a remarkable five HOURS in total having spent a good deal of its life on static display. It even wears the very same set of Pirelli P-Zero tyres that were fitted at the factory. It did, however, make a 'dynamic' appearance to mark Peter Monteverdi's 60th birthday in 1994 (four years before his death), lapped the Dijon circuit several times during the Monteverdi trackday in 2006 and appeared at the Geneva show in 2017 in celebration of the marque's 50th anniversary.
Speaking from somewhere near San Francisco's Golden Gate bridge just a couple of days before the hai 650 F1 was about to make its show-stopping appearance at The Quail, Wüest told Classic Driver about the whirlwind of events surrounding its sudden trans-Atlantic journey. "I have always wanted to attend Monterey car week but, somehow, the chance has always eluded me. Anyway, I was discussing the hai 650F1 with my contacts at Morton Street Partners - and the following day they called back saying 'bring it to The Quail!'.
"The whole thing was completely sudden and unexpected, so we had to organise everything incredibly quickly. At the time of the invitation, I didn't even know if the car was running, but we had already decided to do a photo shoot with it on an airfield in Switzerland to replicate the photos in the Monteverdi book by Roger Gloor and Carl Wagner. "There was so little time that we had resigned ourselves to doing the shoot without running the car - but it was prepared and checked and actually started on the second attempt. It was amazing.
"Anyway, as soon as that was finished we had to get the car onto a 'plane - it would have taken way too long to ship it - and then work out a way of getting ourselves into the United States at a time when access can be difficult due to Covid regulations." Wüest solved that problem by flying to Mexico, where he and a colleague had to quarantine for hot and humid  15 days before being allowed to cross the border into the U.S.where they were re-united with the hai F1 in a San Francisco bonded warehouse. "It has been a whirlwind three weeks, " says Wüest, "but to make it to Monterey and exhibit this car really is a dream come true for me. We're expecting it to attract a lot of attention because it is so rare and exotic.
"If Peter Monteverdi had been able to put the hai 650 F1 into proper production, even in the limited numbers he had originally hoped for, I really think it could have been as famous as the F40 or even the McLaren F1. Interestingly, he integrated elements of other cars into the design - the steering position, for example, closely replicates that of the F40 and the interior layout was inspired by the Bugatti EB110. "It feels like a real honour to own the car - and even more of an honour to have been asked to show it at The Quail. I can't quite believe it...
"All we have to do now is hope everyone who visits The Quail comes to see the hai and then get it on another 'plane and send it back home to Switzerland - which, hopefully, will be a lot less stressful than getting it out here!" But the big question is: Can the Monteverdi hai 650 F1 finally be bought? "It is not officially for sale," says Wüest. "But, like everything, I guess it must have its price...."



Photos: 
Daniel Bronshteyn 
© 2021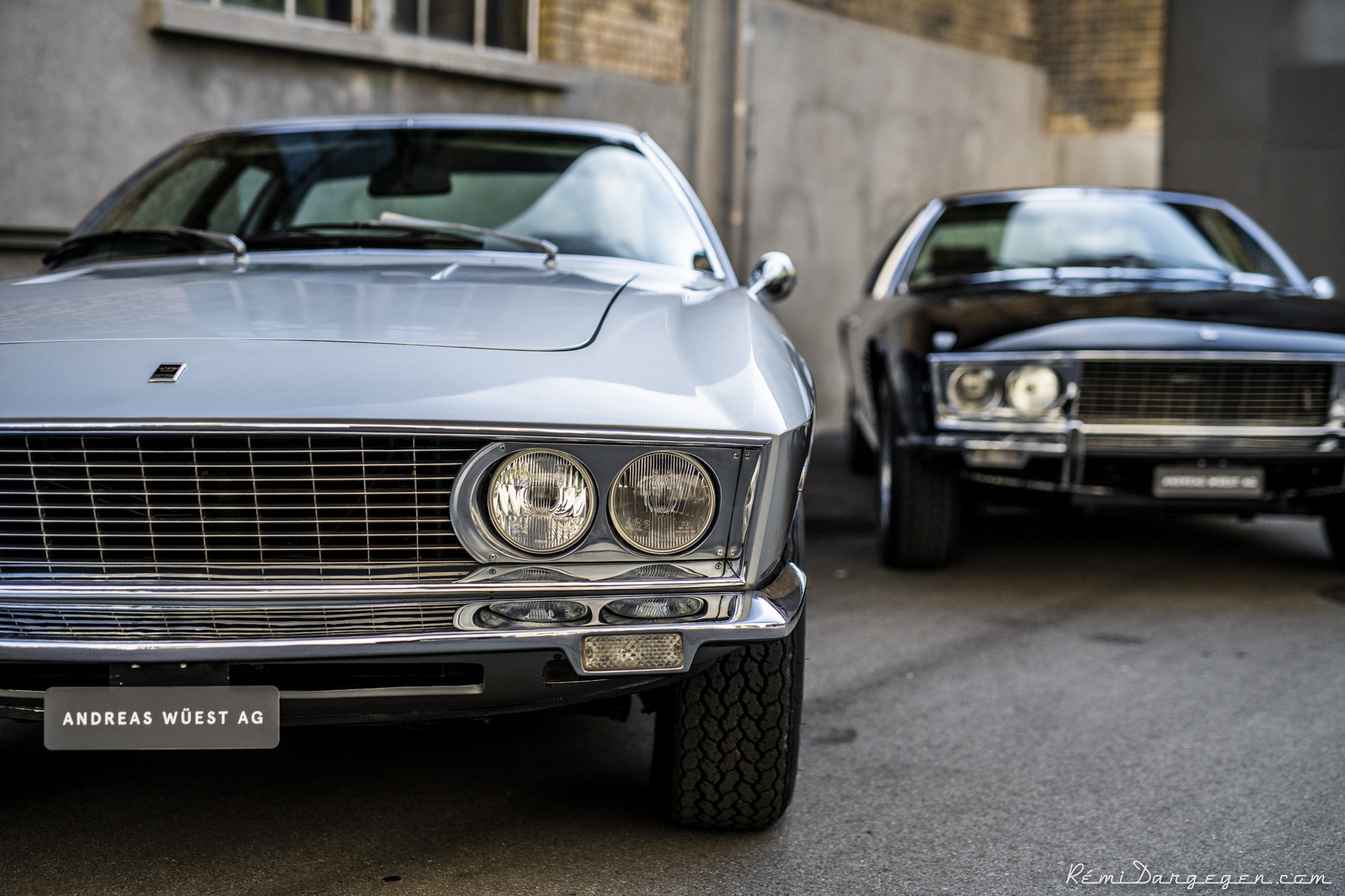 The Monteverdi High Speed 375/4 is a Swiss super sedan.
If you were looking for a four-door sports car in the 1970s, the enormous Monteverdi High Speed 375/4 from Switzerland was the most extravagant choice. We had a rendezvous with two of the rare sedans in Zurich – one previously owned by the charismatic car constructor Peter Monteverdi himself. 
Switzerland is renowned as a guaranteed source of great chocolate, cheese and watches – but when it comes to cars, its output has been less than prolific. After a flurry of activity during the early 20th century that produced fast-fading marques such as the Pic-Pic, the Ajax and the Martini (definitely a shaker, not a stirrer), the Swiss more or less downed tools on motor manufacturing during the 1930s to re-focus on the crafts for which they were already famous. 
In subsequent years, only Enzmann really made much of an impression with its VW-based glassfibre roadsters, produced during the late 1950s and into the 1960s, but then the young Swiss racing driver and garage proprietor Peter Monteverdi (33 at the time) suddenly wowed the crowd at the 1967 Frankfurt Motor Show by pulling the wraps off a two-seat coupe called the Monteverdi High Speed 375S Frua: a beautifully-styled grand tourer that marked the beginning of a bumpy, 15-year ride as Switzerland's most significant car manufacturer. 
The '375' designation – based on the claimed 375 horsepower output of the Chrysler 440 Magnum V8 – was soon applied to other models, the 'grandest tourer' of all being the High Speed 375/4, of which Swiss specialist dealer Andreas Wüest provided not just one, but two cars for our photoshoot in Zurich's upcoming Kreis 5 district. In recent decades, both were displayed in the Monteverdi Museum in Basel before it closed for good in 2016. The silver car is nothing less than the very first example, chassis number one, while the black car is one of the last built, featuring new wheels, bumbers, a revised interior and the rare optional sunroof.
Although the '/4' refers to its four-door configuration, the car was based on the underpinnings of the two-door 375L 2+2 , with a wheelbase stretched by 20.4 inches to provide a luxurious amount of legroom in the back and ample space for any bespoke extras the owner might demand. And the original owner of the silver, Frua-bodied, chassis number one, 1970 car could have demanded anything he wanted – because it was none other than Peter Monteverdi himself.
Monteverdi production numbers are famously difficult to verify (it's believed something between 28 and 35 375/4s were built) and the story behind this silver car goes some way to explaining why. After the marque ceased series production in 1973, all future Monteverdis were built to order – but Monteverdi (the man) put his own chassis number one car on show in more than one paint scheme in order to give the impression that several examples were available. The silver finish it wears now is the original colour, but it was once black, too. Such a practice might be regarded as underhand in the case of a major manufacturer, but it somehow adds to the charm of Monteverdi's gallant David versus Goliath battle against the more established names.
Despite that 'boutique' status, Monteverdi made cars that the wealthy really wanted – as evinced by the fact that the majority of 375/4s went to America and the Middle East, with the Qatari royal family being so keen on them that several are reported to still be used for royal duties. When new, this one would have cost something in the region of Sfr 80,000 – a reassuringly expensive sum for a car that had its roots in Monteverdi's desire to stick two fingers up at Ferrari.
In 1955 at the young age of 21, Monteverdi had been awarded the Ferrari agency for all of Switzerland bar Bern (where one already existed), but a few years later the famously capricious 'Il Commendatore' demanded that he sign on the dotted line for 100 cars and pay for them up front. Monteverdi said no, and promptly set out to build his own cars that would offer something no Ferrari could: the reliability and performance of a big-block American V8 mated to the ease and luxury of an automatic gearbox in a fast but relaxing grand-tourer package. Arguably, the configuration worked best of all in the 375/4 High Speed which, as this car demonstrates, encapsulated everything that was required of a true, continent-crossing gentleman's express.
Undoubtedly one of the fastest four-door saloons of the era (and very possibly THE fastest), the Monteverdi 375/4 measures a majestic 5.3 metres long and 1.8 metres wide, while tipping the scales at a portly 1,940kg. But even being 40 per cent heavier than a contemporary Porsche 911 didn't prevent the mighty Monteverdi from being markedly quicker. If the factory specification is to be believed, the Magnum V8 was capable of thrusting it to 100kph in just 6.9 seconds and on to a top speed of 250kph.
And, the more one looks at the photographs of the two cars in detail, the more one realises what a brilliantly conceived design it was. The sharp angles and vast wheelbase shout luxury, yet the centre-lock wheels and cooling vents cut into the front wings give a hint that this is more high-performance drawing room than wallowing barge. Similarly, the interior is a place of contradictions: the acres of black leather, wide, easy-access doors and sofa-sized rear seat suggest this is a car for long journeys taken slowly – yet the race-style steering wheel, sporting instruments and round-topped, inset shifter for the three-speed TorqueFlite transmission belong to a limo that's clearly made to be driven hard and fast.
In terms of what it set out to achieve, the futuristic Aston Martin Lagonda and Maserati's Quattroporte were the only contemporary four-door cars that could be considered sufficiently exotic to compete against Monteverdi's effort – but neither offered the bullet-proof mechanicals of the Chrysler powerplant, perhaps leaving the Mercedes-Benz 450SEL 6.9 as the most realistic alternative, although its hydraulic suspension made it a rather delicate car.
But with more than 7,000 produced, the Mercedes seems nothing short of common compared to the Monteverdi. And as the one-time personal transport of the man who single-handedly put Switzerland on the map as a maker of fast and exciting cars, this example must be the most special one out there. While Peter Monteverdi's personal silver car has already found a new owner, the black late-production example from our photoshoot is still up for grabs with Andreas Wüest. All it needs now is a new owner and three willing passengers who fancy stretching its legs on a trans-continental tour. A High Speed one, of course...
Photos: Rémi Dargegen © 2021
Text: classicdriver.com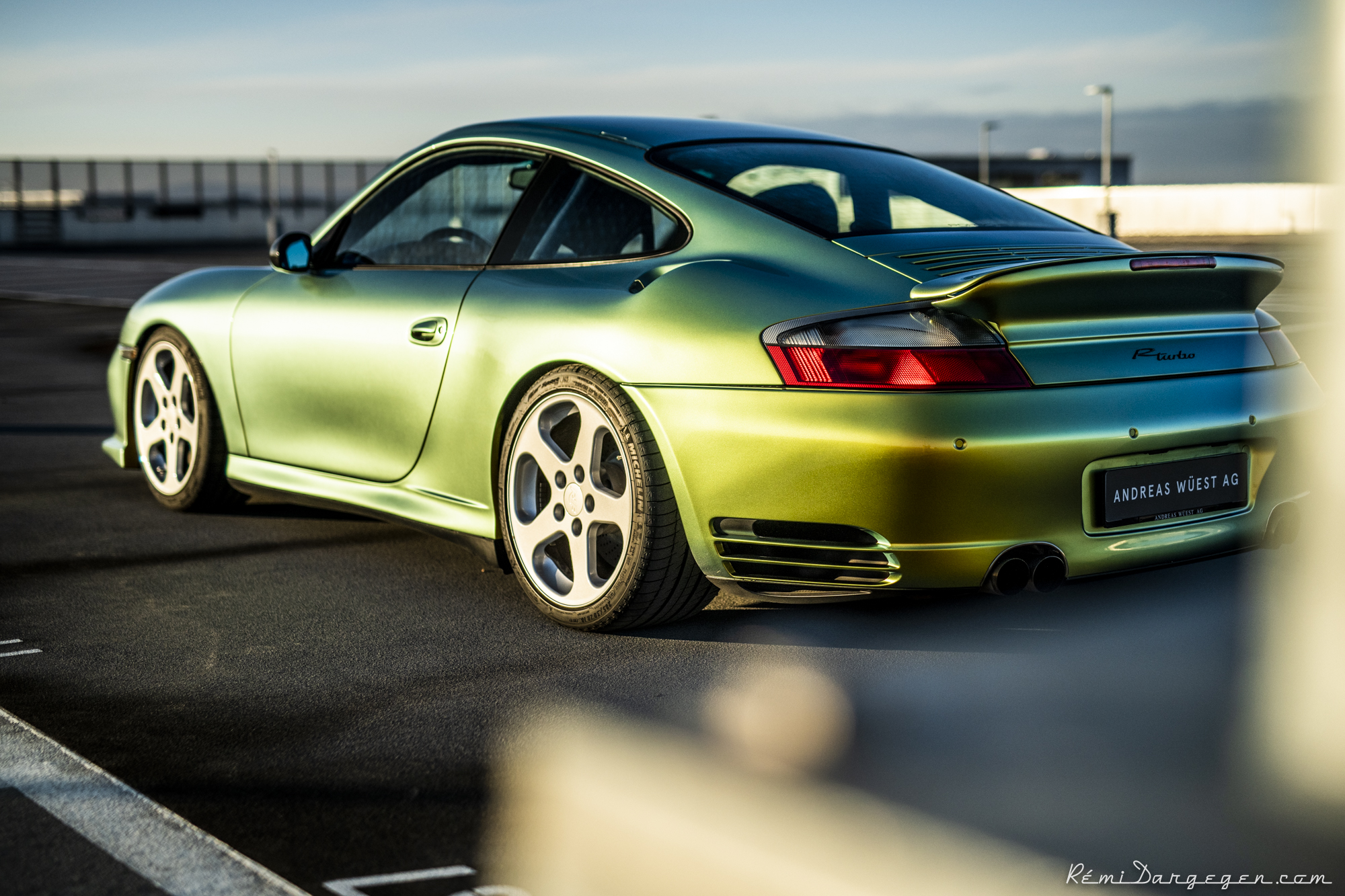 This dazzling Ruf RTurbo will make you look twice.
Long before Singer, RWB or Magnus Walker, there was Alois Ruf – the godfather of Porsche customization. This particular Ruf RTurbo is the last Porsche 996 that was tailored in Pfaffenhausen – as a full-blown 21st-century supercar with an eyeball-searing acceleration and rather dazzling looks. 
In the grand scheme of things, 2006 – the year this remarkable RUF 911 was built – was not so long ago. But didn't it feel like a different world? From my perspective, I had no children (today two), a hectic London life (in the country these days), only one motorcycle (more space here, so there are now 15), freedom to travel anywhere and everywhere (that's gone) and never an inkling that the sort of problems caused in Asia by SARS a couple of years before could ever affect us in the Europe that Britain used to be well and truly a part of.
One thing that has remained the same in my life, however, is my trusty old Porsche 911. A 'cooking' SC Targa in Grand Prix white, bought in '05 when the 911 of the moment was the 997 and 996s still commanded strong money on the secondhand market – before values dropped off a cliff amid mutterings of failed IMS bearings and the aesthetic tyranny of 'fried egg' headlamps. Modifying cars, 911s in particular, was also far from the 'thing' it is today. Magnus Walker was yet to find fame, Singer was two years off being founded, 993 modder KAEGE didn't start its first project until 2010 and Japan's Akira Nakai had yet to go global under the RWB banner with his unique and peripatetic one-man build method.
Back then, four years before Instagram had made it easier for everyone to enjoy Andy Warhol's '15 minutes of fame,' a list of the world's best Porsche tuners more or less started and stopped at 'R' with the name of RUF Automobile: the business founded in 1939 by Alois Ruf as a Pfaffenhausen service garage, before Alois Junior shifted the focus to upgrading 911s in the mid 1970s. But within a decade, RUF wasn't merely a modifier, but a true manufacturer sanctioned by Porsche to build cars to its own, ultra-high specification using new bodies and other components supplied directly from Zuffenhausen. Famously, a new-build RUF even gets its own VIN plate (always starting with WO9) and the company's 210mph CTR 'Yellowbird' of 1987 can fairly be described as an automotive legend.
That brings us back to the car you see here – which is not a Yellowbird (although that flip-flop paint job is sometimes yellow. Other times lime green. Others gold. Then light blue...) It is, however, a RUF of typically staggering performance, quality, rarity and – to any 911 fan – desirability. Built from scratch in 2006, it's the last of two similar 996-based RUF Turbos to have been created, and while it's officially an 'RTurbo' model (due to the 996 base), it runs the same engine (again 996-based, but bored to 3.8 litres) as the top-spec versions of the 997-model RUF RT12 that entered production in 2004.
That means a stump-pulling 890Nm of torque, a heady 650 PS and an eyeball-searing 0-60mph time of just 2.8 seconds. And, as is only to be expected of any RUF of the noughties, it tops out at a double-ton-busting 215mph. Typically, however, it isn't just the twin-turbo upgrade and other high-spec engine tweaks that make this RUF as quick as any 21st-century supercar. It's the result of a carefully matched package that also makes the RTurbo far lighter than the standard 996, thanks to extensive use of carbon fibre: it makes up the engine cover, bootlid, doors and bucket seats.
The remainder of the interior is also superbly finished in a combination of blue and red plaid, Alcantara and leather – the latter even being meticulously stitched around the air vents. The colour in which the body is painted, meanwhile, was applied at the RUF factory and is similar to the Chromaflair finish currently offered by Porsche Exclusive – as an €84,000 option, which more or less equates to the base price of a new 911 Carrera.
Andreas Wüest, who's offering the car for sale from his showroom in Hallwil, northern Switzerland, is a close friend of the person who bought it new and has owned it ever since, clocking up a modest – but undoubtedly thrilling – 35,000 kilometres in 15 years. "He ordered the car in 2005 and took delivery in 2006," says Wüest. "At the time, it cost around 400,000 Swiss francs and was more or less the fastest, maddest, most incredible-looking car that could be bought. It's completely bonkers even by today's standards, so what it must have seemed like in 2006 is difficult to imagine."
"It has since been meticulously maintained, both at RUF and by Porsche, and although there are modern cars that'll match its performance, the RUF still stands alone in terms of the quality of workmanship and its sheer, visceral power." Wüest should certainly know, since he has covered more than 1,500 kilometres in the RTurbo in recent weeks, mainly along the type of serpentine Alpine roads on which it's virtually impossible to catch.
"It'll reach a GPS-verified top speed of 344kph (215mph) in sixth gear incredibly quickly – at which point, the engine hits the rev limiter," he says. "But, aside from the looks and the power, the really striking thing about the car is the exceptional workmanship. Everything on it still works perfectly, it drives just as it did when it left the factory and the interior shows virtually no signs of wear." It's difficult to imagine a nicer RUF to have over your head, isn't it?
Photos: Rémi Dargegen © 2020
Text: classicdriver.com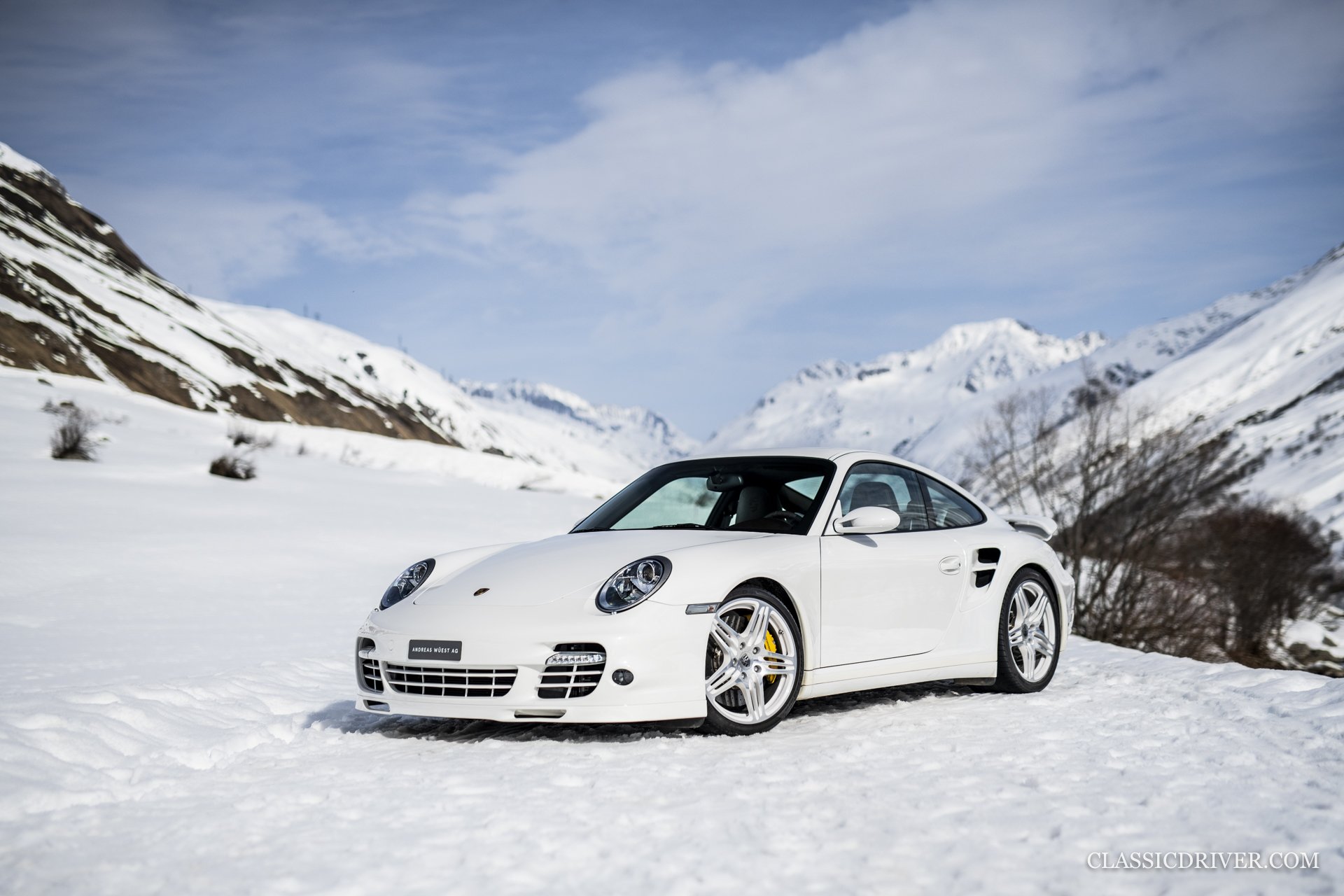 This RUF-tuned Porsche 911 Turbo RT12S is an avalanche in disguise.
This Carrera White Porsche 911 Turbo might look like your average 997 at first glance. But with literally all boxes on Porsche Exclusive's extensive option list checked and an engine tuned by the gurus at RUF in Pfaffenhausen, it might very well be the ultimate 'sleeper' 911 Turbo RT12S. 
"Let me tell you about the very rich. They are different from you and me." F. Scott Fitzgerald's most frequently quoted line from his short story 'The Rich Boy' instantly came to mind when we heard the history behind this decidedly covetable first generation Porsche 997 Turbo, which recently arrived at the Hallwil showrooms of Swiss specialist car dealer Andreas Wüest. 
After all, only someone who was indeed 'different' would order such a car from the factory, max-out on the options list - and then, without ever driving it, immediately send the finished article to the Porsche tuning gurus at RUF Automobile for a range of mechanical upgrades that might leave any owner of an 'ordinary' 997 Turbo travelling in the same direction wondering whether or not they had accidentally engaged reverse. 
But it really was a case of 'money no object' when the original, east Asian owner of this car set out to create what might just be the ultimate 'sleeper' 911 Turbo RG12S - although it must be said that this is one instance where style and good taste were in no way compromised by an ability to spend with impunity.  
The car's journey to uniqueness began at Porsche Exclusive, the marque's special request arm which has been pandering to the whims of the aforementioned very rich by personalising cars to their specific needs since 1986. In this case, that largely meant creating a 997 Turbo interior like no other. As one of the last Gen One 997s, the car was already factory fitted with the Gen Two navigation system, but the buyer's long list of unique extras included special stitching, additional leather, a subtly thicker steering wheel rim, a driver's footrest and a full interior aluminium package - all of which helped to push the initial purchase price of the car to around Euros 180,000.
Outside, the Carrera White paintwork was extended to include most of the exterior features, with the master touch being the combination of painted and polished finishes to the five-spoke wheels. The result is a car that looks more benign than aggressive, the sort of 911 that one might almost expect to spot trundling along the highway at a sedate 100kph with a long-retired gentleman at the wheel.
But that thought would soon be shattered by a peek beneath the engine cover - because, once Porsche Exclusive had done its bit, the 911 was quickly despatched to RUF Automobile at Pfaffenhausen for a Euros 90,000 mechanical upgrade to RT12S specification. Engine-wise, that meant completely dismantling the 3.6 litre flat six engine and building it back up again with displacement enlarged to 3.8 litres, Mahle pistons, gas-flowed cylinder heads, bespoke camshafts and a pair of KKK turbos in place of the standard VTG items.
The result is an official 685bhp, up almost 25 per cent on standard (and probably closer to an actual 740bhp), a truck-like torque figure of 880 Nm at 3,500 rpm and a red line at 7,000 rpm - all amounting to a potential top speed of around 220 mph, which can be quickly reached in this particular car through its special-order, lightning fast Tiptronic gearbox.
After commissioning all that work and waiting patiently for its completion, it would be fair to assume that this very special car's original owner would have been desperate to get in and drive the wheels off it. But no - he covered a mere 1,800km before deciding to move it on from what is reported to be a huge collection of exotics, hence its appearance in Wuest's showroom.
"The odometer is currently showing around 3,800 km - but 2,000 of those are down to us," admits Wuest, who has enjoyed several extensive drives around Switzerland in the car, one of which involved scouting-out the location for Remi Dargegen's appropriately snowy photo shoot. "The car really is very special," says Wuest.
"The first impression is a super-comfortable grand tourer in which you can travel quickly from A - B without any fuss and, really, without any particular feeling that that you are behind the wheel of a supercar. But at the same time, the engine note tells you that this is something unusual and that there is a huge amount of power waiting in reserve for the moment when you really need it. "Up to 150 kph it is, as anyone would expect, extremely rapid - but it's the acceleration beyond 150 that is truly incredible, and it's only when you enter that zone that you realise just how versatile the car is".
Photos: Rémi Dargegen © 2021
Text: classicdriver.com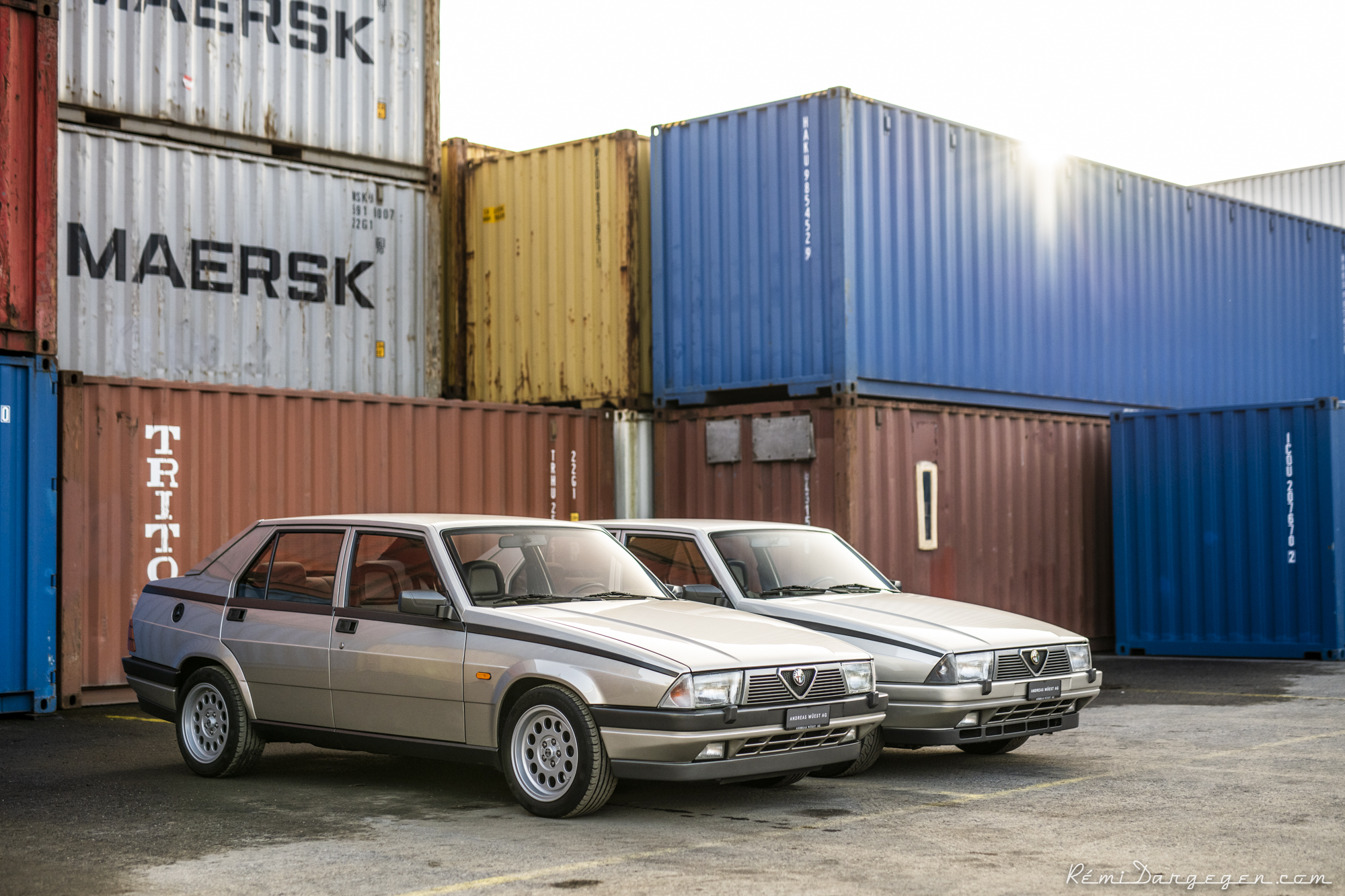 These two Alfa Romeo 75s are getting more desirable by the second.
As an addictive driving machine and one of the last independent cars from Arese, the Alfa Romeo 75 is in the midst of a global revival and desired by Alfisti worldwide. Swiss dealer Andreas Wüest has the two most exciting Alfa 75s in stock – an ultra-rare Turbo and a 2.5 litre V6 'Quadrifoglio' 
Seit Joni Mitchell in ihrem Song "Big Yellow Taxi" beklagte, dass sie – frei übersetzt – "das Paradies zugepflastert und darauf einen Parkplatz gebaut haben", mag es zunächst widersinnig wirken, dass eine andere Textzeile aus dem Lied – "you don't know what you've got 'til it's gone" – jeden berührt, der ein Auto vermisst, dass nicht länger ihnen gehört.
So erging es mir mit meinem frühen Alfa Romeo 75, dessen wunderbare Qualitäten ich den wenigen Monaten, in denen er mir gehörte, nicht zu schätzen wusste. Wahrscheinlich, weil er damals 1999 "nur ein altes Auto" war und hier im kalten und kaltblütigen Grossbritannien einen dermassen niedrigen Wiederverkaufswert besass, dass er mich faktisch nichts kostete. Er wurde mir von einem Vorbesitzer überlassen, der einfach keine Lust auf eine Verkaufsanzeige hatte. 
Ich meinerseits habe ebenfalls das Auto an einen Freund verschenkt. Dessen vierjähriger Sohn setzte allerdings kurz danach den Alfa in Brand, nachdem er verborgen in der üppigen Rückbankpolsterung ein verloren geglaubtes altes Bic-Feuerzeug entdeckte. Das Kind blieb zum Glück unverletzt, aber dieser Alfa versank in einem Berg aus geschmolzenem Kunststoff und Feuerwehrschaum.
Ein Blick auf Rémi Dargegens bewegende Fotos dieses seltenen Paars höchst aussergewöhnlicher 75 von 1986, die aktuell von dem Schweizer Händler Andreas Wüest angeboten werden, liess diese Erinnerungen wieder auf einen Schlag lebendig werden. 
Diese heikle, typisch italienische Anordnung der Pedale, ein Lenkrad, dass immer ein bisschen zu weit entfernt schien, Fensterschalter, die kurioserweise im Dachhimmel platziert waren und eine Handbremse in Jochform, mit der man lieber den Abflugwinkel einer Boeing 747 kontrollierte, als dass man ihr beim Anfahren am Berg vertraut hätte – das alles ist so vertraut. Aber noch vertrauter war mir die feine Ausgewogenheit des Autos, das grandiose Handling und dieser Motor, der nach Umdrehungen gierte. 
Mein 75 war ein heisses 2,0-Liter-Modell, aber die beiden Exemplare von Wüest sind weit interessanter: Bei dem einen handelt es sich um den extrem seltenen Turbo, der andere ist ein 2,5-Liter-V6 "Quadrifoglio".
Dass beide in der Farbe Bianco Argento konfiguriert sind, ist ein ziemlicher Zufall, aber wohl noch zufälliger ist, dass beide etwa zur selben Zeit in den Bestand von Andreas Wüest kamen.
"Sie habe beide durch Alex Bianco, meinen besten Freund aus der Schulzeit erworben", erklärt Wüest. "Er besitzt eine Garage mit Namen Autobianco, die auf Alfa Romeo spezialisiert und ganz in der Nähe meines Showroom ist. Alex weiss, dass ich ein Faible für die 75-Modelle habe, weil mein erstes Track-Auto auf einem basierte – und er hat es für mich gebaut."
Alfa Romeo-Puristen schätzen den 75 nicht nur als Fahrmaschine mit Suchtpotenzial, sondern weil es auch das allerletzte Modell war, das von der Marke entwickelt und vorgestellt wurde, ehe sie 1986 unters Dach von Fiat schlüpfte.
Beide Autos entstammen diesem schicksalshaften Jahr. Da ist zunächst der 1,8-Liter-Turbo, der gut 152 PS bei 5.800 Umdrehungen pro Minute leistet. Er ist schon allein deswegen bemerkenswert, weil seine beiden Langzeit-Vorbesitzer nur 75.000 Kilometer mit ihm gefahren sind. Nicht nur sind seine korrosionsgeschützte Karosserie und der Unterboden in einwandfreiem Zustand, aber in ebenso ungewöhnlicher Weise auch das Interieur.
Wie Wüest weiss, haben weniger gepflegte 75 Turbo oft ein "verhunztes" Armaturenbrett, weil nachträglich noch weitere Anzeigen eingebaut wurden. Weil Originalteile längst nicht mehr erhältlich sind, können die Tafeln auch nicht mehr in den Originalzustand versetzt werden. Und was noch überraschender ist: Dieser Turbo wurde neu an den Erstbesitzer ausgeliefert, der sich nur wenige Kilometer entfernt von Wüests Unternehmen befindet. 
Der V6 ist ebenfalls ein seltenes Exemplar, ein nach europäischer Spezifikation konfigurierter 2,5 V6 Quadrifoglio von dem nur 2.800 Stück hergestellt wurden. In diesem Fall wurde das Auto allerdings von einem Karosseriespezialisten erworben, der, wie Wüest erzählt, "unglaublich viel Zeit und Kosten investiert hat", um es in seine Einzelteile zu zerlegen, ehe es von Grund auf wiederaufgebaut wurde. Heute steht es innen wie aussen beinahe fabrikneu wieder da. 
Obwohl der V6 nicht so rasant ist, wie der aufgedrehte 75 Turbo, ist er doch offensichtlich Wüests Favorit. "Er verhält sich mehr wie ein Hochleistungs-Grand Tourer, ist aber dank seines Saugmotors und seines geringen Gewichts von rund 1.250 Kilo wirklich wunderbar zu fahren", sagt er. "Der V6 hat ausserdem ein kürzeres Übersetzungsverhältnis als der spätere 3,0-Liter und er besitzt ausserdem nicht dessen Katalysator. Aber was ich besonders liebe, ist der Sound – absolut phänomenal im oberen Drehzahlbereich."
Wie man auf den Fotos sieht, wurden beide Fahrzeuge mit den wesentlichen Ronal "A1"-Strassenrädern ausgestattet und sie strahlen diese Präsenz aus, die einfach zum Einsteigen und Losfahren verlockt. Wüest gibt den Preis für die Turboversion mit 28.500 Schweizer Franken an, der V6 kostet 26.000 Schweizer Franken. Und für alle echten Alfaholiker, die vielleicht beide für die unterschiedlichsten Situationen brauchen, könnte Andreas Wüest vielleicht sogar über einen Mengenrabatt nachdenken…
Fotos: Rémi Dargenen © 2021
Text: classicdriver.com